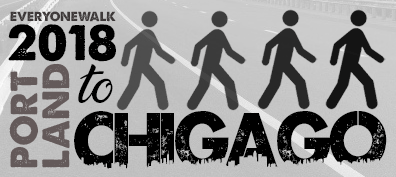 Dale is at it again!  Two years ago, Dale accomplished his walk of 40 days straight.  Walking 1430 miles from Seaside, OR to San Diego, CA.
This year, he is planning to walk from  Portland, OR to Chicago, IL!  He is scheduled to leave Portland on June 17th, 2018 and will walk for 60 consecutive days – averaging 35.5 miles per day. Arriving in Chicago on Aug 15th, 2018.
When asked about his route, Dale said, "My Walking route is I-84 through Ogden, Utah – then linking up to I-80 all the way to Chicago.  Total mileage walked will be approx 2150 miles in 60 days!"
Dale is walking to continue promoting his non-profit, "EveryoneWalk."  The mission of EveryoneWalk is to destroy obesity in America from the inside out, through movement, education, influence, encouragement.  Empowering you to take back your life!  EveryoneWalk has a vision is to rebuild communities from the inside out through athletic parks nationwide.
Dale said that the goal of his walk is to, "Generate 1 million new pledges."  Pledges are those who donate to the "$1.50 per month club" to support the mission and vision of EveryoneWalk.  The athletic parks are to be built and funded through $1.50 monthly pledges.
The video below is a sneak peak at some early designs of the athletic parks, enjoy!